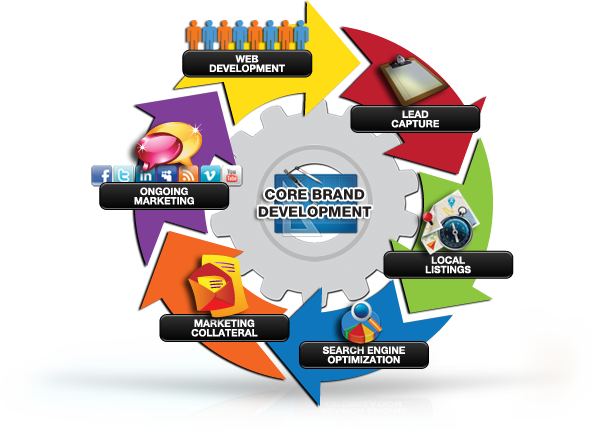 The Business PowerCORE System by P3
Sign up for a FREE Demonstration of the Business PowerCORE System
You're literally seconds away from unleashing the true power of your business!
Core Brand Development
The Core of your business defines who you are, your target market and what Brand Image is needed to compete in your market sector. Whether you're a New Business or Establish Business, whether you're launching a new product or service, or you want to get ahead of your competition, the Core is where P3 starts. By starting at your core, you ensure that to capitalize on all opportunities and you waste NO resources or time.
Web Development

One of the Most Powerful Tools of Leverage in your marketing arsenal is your Website. It can effectively deliver valuable information, content about your company, and conduct business on your behalf - 24 hours a day, 7 days a week, 360 days a year.

As powerful company beacons, our professionally built, custom websites make you look better than your best competition. Built on Content Management Systems, our sites have you geared for success for many years to come.

Lead Capture

There is NO point in having a website online if you don't make every attempt to capture the contact information of your site visitors. To capture your prospect information, you need to have a Powerful Call to Action that compels them to ask for more information, request a quote or make a purchase.

Our lead capture systems range from simple emails to sophisticated Customer Relationship Management Software designed to turn the worst sales rep into a selling dynamo.
Local
Listing

This component is designed to attract the largest percentage of your customer base, people in your area who want to use local businesses.

Search Engine Optimization

1st Place position gets 42% of clicks, 4th gets 6%. The difference in ranking will drastically determine the New Leads & Customers you receive.

Marketing Collateral

From Print to Digital to Multi-Media material, this area ensures you have effective marketing to powerfully communicate your products and services.

Ongoing
Marketing

This component consists of your repeat and recurring marketing efforts like social media, public relations, advertising, and new marketing.